Shock Defence
Shock Defence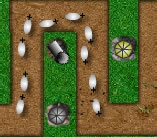 Neat defense game which is a miniature version of age of empires. In shock defense you have to shock all the enemies to death so that they do not make it all around the battle field. Build various structures and upgrade them to be able to take on.
This game has been played
4,385
times, and is
1
peoples' favourite game.

Show Walkthrough
Here are games similar to Shock Defence:



Climate Revenge
Smash buildings! Fling trucks! Dampen spirits! Mother nature is in control and Mr. Climate strikes back!

Bubble Quest
Guide the air balloon by managing your air intake while jumping between platform levels.

Eyeball MazezZ
This game will get you going crazy. Guide the eyeball through a maze of mayhem and misfortune.


please tell your friends about this page!


---

Add this game to your website. Just copy and paste the following code: